Chat with a Bail Agent 24/7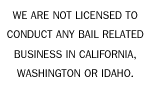 Ask a Bail Bondsman Question Here.

Find a Bail Bondsman
@ Bail Yes we provide you with bail bond information, online search of jails, courts, sheriff's, inmate records, and confidential bail bond assistance 24 Hours 7 days. To speak now to a licensed bail bondsman call our number
1-800-224-5937.

Nationwide Bail Bond Click On Your Bail State Below
Click Here For Bail Yes Home Page
Your message will be electronically sent to the on call Bail Agent nearest you, who will then respond to your message immediately on-line, by phone or email.

For Bail Bond Service Call 1.800.224.5937 Open 24 hours 7 days.

We always say Yes @ BAIL YES.Com

For more Contact information click here
Let us help you today!